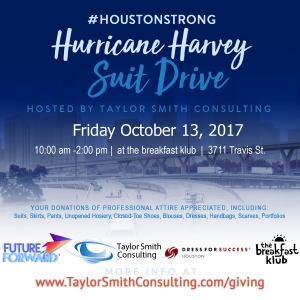 Houston Businesswoman, Home Flooded in Harvey Hosts
Hurricane Recovery Suit Drive 
HOUSTON, TX: Taylor Smith Consulting will host a career wear drive to help Houstonians continue Hurricane Harvey recovery efforts. The drive, benefiting Dress for Success, will be held Friday, October 13, 2017,
at The Breakfast Klub, 3711 Travis St., Houston, TX 77002 between 10 a.m. and 2 p.m. Donations of gently worn suits, handbags, dresses, etc. are requested.
"We always prioritize giving back—but in the wake of Harvey, the need literally and figuratively hits close to home.  My own home took in 7 feet of water.  I can intimately understand the devastation felt by so many of our friends and neighbors. I'm grateful to be in a position to help others regain normalcy after the storm," said Tracy Smith, Taylor Smith Consulting founder and CEO.
We will be accepting clean, seasonably appropriate, in style, professional suits, separates, handbags, scarves, new pantyhose, gently worn closed-toe shoes, and business portfolios.
About Taylor Smith Consulting
Taylor Smith Consulting has provided staffing (contract and temporary contingent employees), project management, human resource operations and consulting, and training for over 10 years.  We seek to promote positive employee relations, outstanding customer service, and improved public relationships while stimulating economic growth through the professional services we provide to both public and private sectors. Taylor Smith Consulting is a woman-owned, minority-owned business headquartered in Houston with offices throughout the US.
About Dress for Success
Dress for Success Houston is a 501 c (3) non-profit organization that provides interview appropriate and career development tools to job ready, low-income women seeking employment.